An Introduction to Realms
Noticeable, impactful progression is a feature that has contributed significantly to the enjoyment of many online ARPG titles. That remains true for Magic: Legends, but our approach is a little different. Akin to Magic the Gathering, the card game we draw from as source material, Magic: Legends focuses on empowering players through the ability to build a playstyle that matches their preferences. To achieve this, our team has designed some distinct progression systems that players can utilize in many ways. Before we discuss the Realms system, here's a quick list recap of the systems we've covered so far this month:

These three systems combined offer plenty of customization, but they also provide us with a unique challenge as designers. We want to empower players to learn a vast array of different spells and maximize advancement with several character classes, we then have to balance the speed and corresponding impact of progressing these spells and classes. With the improvement of the moment-to-moment experience by progressing spells, and the mid-term progression of character classes and their benefits, how do we bring a valuable implementation of longer-term meta progression to life?


Tying It All Together
We needed to find an elegant systems solution that provided players with empowering choices while serving as the backbone that connects all aspects of the game. Some players may be generalists who like to spread out and learn lots of spells or classes. Others may enjoy min-maxing and just want to focus on specific areas of advancement to enhance their selected playstyle. Simultaneously, we thematically wanted to capture the way planeswalkers grew into their power over time as they established deeper connections with the mana contained in the Multiverse.
In the existing Magic lore, a handful of powerful planeswalkers such as Karn and Serra set up home bases of their own within the Multiverse. We tied our ideas together and created the Realms system, which both highlights the growth of the player's character and reinforces the overarching power fantasy of being a planeswalker. The player has control over an entire realm of their own that they can build upon and upgrade as their power grows. This is a rare feat even amongst planeswalkers, placing the player in exclusive company.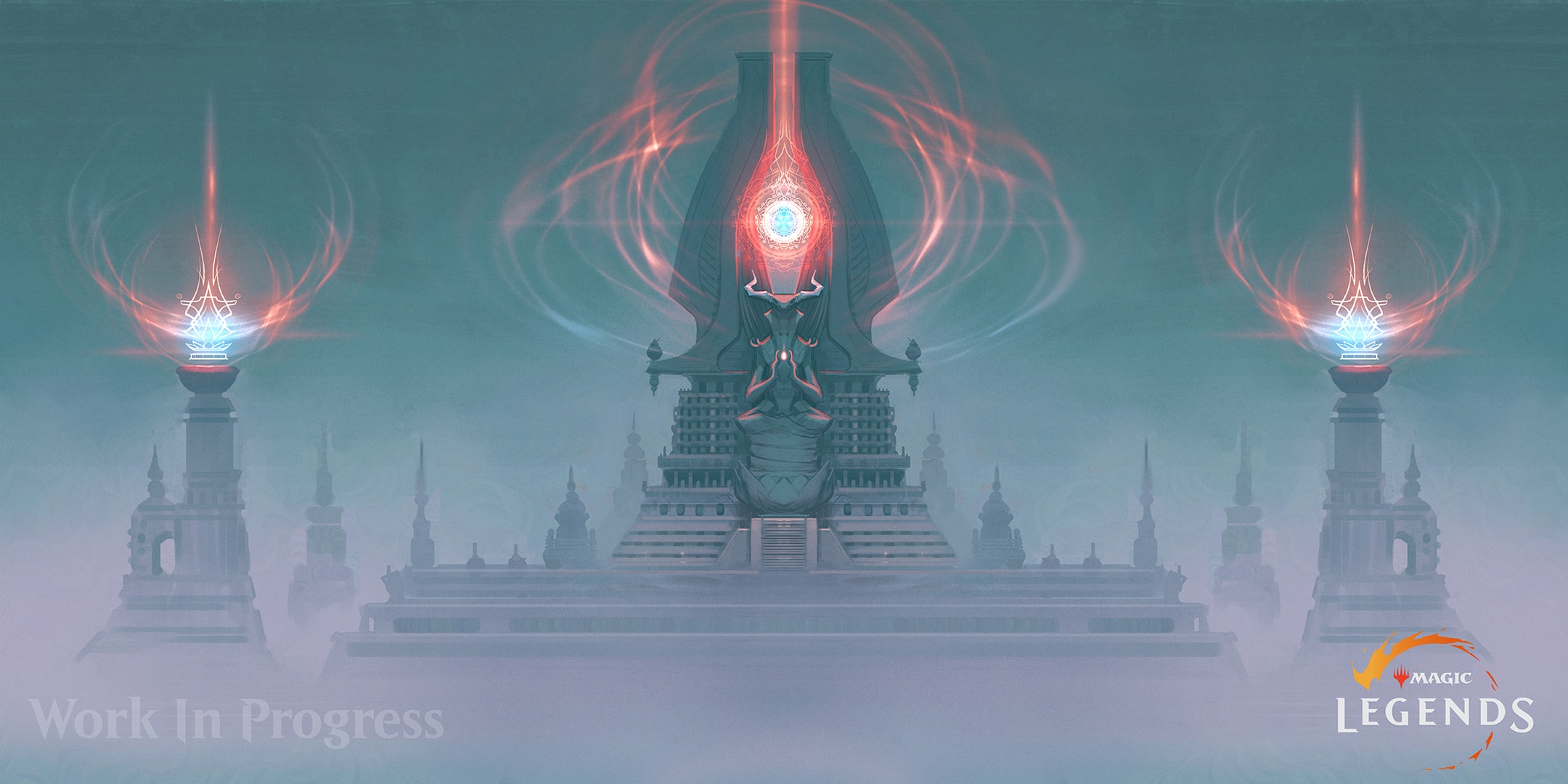 A Home for Progress
Giving a player their own personal sanctuary that grows with them and reflects their overall power level is the perfect way to reflect advancement regardless of their selected spells, classes, Artifacts, and so on. By including this persistent progression system, players will get a sense of their overall progress through the game and grow upon their experience along the way.
As players level the focal point of their Realm — known as the Aetheric Core — they will be able to undertake projects at various workstations within. These workstations include the Arcane Library, the Artificers Workshop, the Mana Vault, and Lands. Each of these workstations serves a unique function and can be improved and advanced alongside the Realm's Aetheric Core. By running projects at these workstations, players earn awesome rewards including new spells, Artifacts, class unlocks, mission reward multipliers, and more. In addition to this, players will be able to convert resources like gold into other forms such as Planar Mana while in their Realm.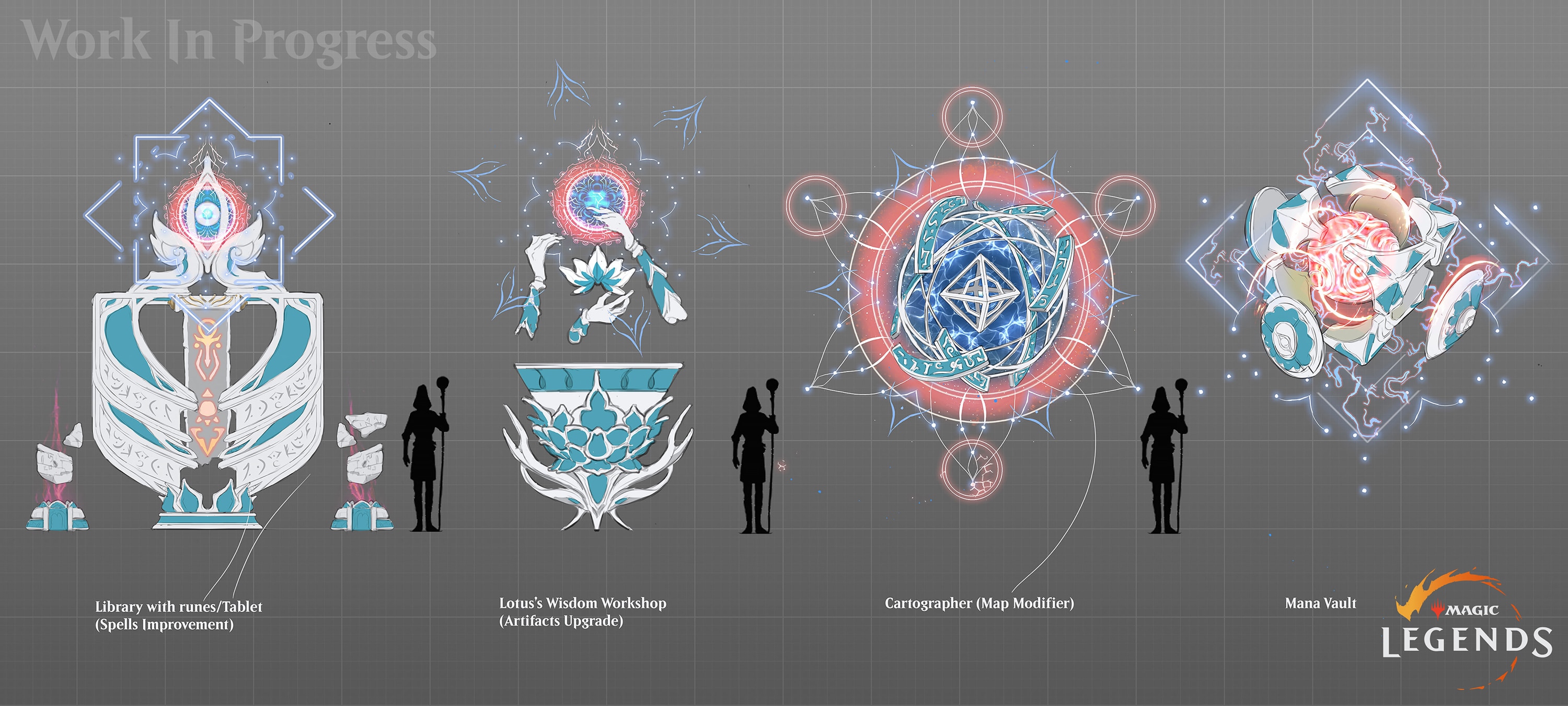 More to Come
Realms neatly connect the game's progression systems to every piece of playable content while paying homage to the feel of classic ARPG skill and crafting systems. Details are subject to change during pre-alpha development; however, we are currently exploring the potential of making the Realm a fully visualized 3-D space that the player can occupy and interact with. Conceptually speaking, upgrades will impact the effectiveness of each workstation. Realms will provide many in-combat benefits to players while also serving as a nexus of long-term progression. Our team is also brainstorming on ways to further expand the functionality of alongside content releases after launch.
We have been very excited to introduce you all to Realms, and we look forward to sharing a bit more detail on projects and workstations next week. In the meantime, stay up-to-date on the latest news via our Twitter and Facebook accounts. Don't forget to join our official Discord server to chat with the dev team and other fans alike!
by Robert Gutschera, Senior Systems Designer, and Winter Mullenix, Senior Community Manager